She's not that bad,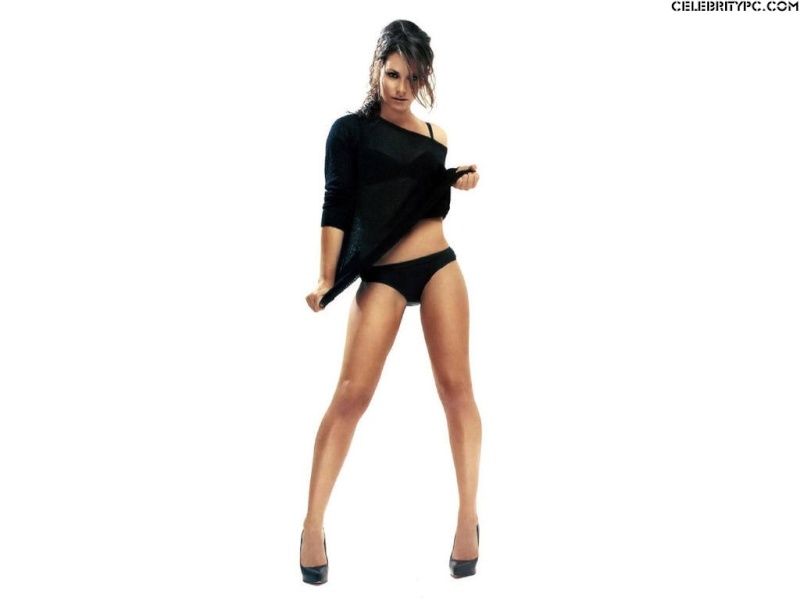 Lost unanswered questions...
Grab a tea, this could take a while...
NO SERIOUSLY, WHAT WAS UP WITH THE NUMBERS?
THE MYSTERY:
Hurley won the lottery by playing the numbers 4, 8, 15, 16, 23, and 42 and from that moment on was cursed with Monkey's Paw-ish luck. His grandfather had a heart attack, a meteorite destroyed his restaurant and to top it all off, he missed his Mom's birthday because Oceanic Flight 815 (there's those numbers again) crashed on 'Lost' island. It turns out the numbers are, in one form in the other, painted across reality, appearing in almost every episode as they follow the cast throughout their lives. Oh yes, and those numbers were originally broadcast from 'Lost' island on a constant loop, which caused all the trouble. Oh, and they're the numbers on Desmond's hatch that also need to be inputted into a computer every 108 minutes (108 being the sum of all six numbers) or the world will pretty much end. Kind of a big deal.
THE BEST ANSWER WE GOT:
In Season Six we learned that the numbers correspond the Jacob's list of Candidates, specifically John Locke (4), Hugo Reyes (

, James "Sawyer" Ford (15), Sayid Jarrah (16), Jack Shepard (23), and either Sun or Jin Kwon (42). So that's why they were important.
WHY WE DESERVE A REAL ANSWER:
So that's why they were important? That. Doesn't. Explain. SHIT. At best, it just qualifies as yet another appearance of the ubiquitous numbers. Why would the arbitrary numerical order of Jacob's candidates appear throughout all of reality? Why would they be cursed? For that matter, why would they have any power at all if only one of those numbers (or, as it turns out, two: 8 and 23) would end up being Jacob's chosen candidate?
NO SERIOUSLY, WHAT WAS UP WITH WALT?
THE MYSTERY:
Michael and his son Walt were prominent cast members in the first two seasons of 'Lost,' particularly Walt, whose abduction by The Others was one of the biggest plot points in Season 2. His stepfather even refused custody of the boy because, "There's something special about him. Sometimes, when he's around, things happen. He's different somehow." For example, the first appearance of polar bears on the island just happened to coincide with Walt reading a comic book with a polar bear in it (and to top it all off, Michael gave his son a stuffed polar bear as a boy). When Walt was writing a paper on birds, one of the birds he was studying flew into the glass window of his Mother's house. He had a premonition about the hatch and told Locke "Not to open that thing" before anyone actually found out about it. He found a way to get inside the hatch computer to communicate with his father despite being kidnapped by The Others. The Others then gave Walt away because he was doing something unspecified that clearly freaked them all out. Later in the series, an older version of Walt mysteriously appeared on the island and talked Locke out of killing himself in the Dharma mass grave, telling him he had "work to do." Though Walt did show up later in the series, it was only briefly and as a normal kid.
THE BEST ANSWER WE GOT:
We got a big fat middle finger in our faces. They tried to pretend the whole thing never happened.
WHY WE DESERVE A REAL ANSWER:
Look at "The Problem" up above again. In the first two seasons, Walt was one of the biggest plot points on the series and throughout the show exhibited supernatural powers that manifested themselves in a variety of compelling ways. Sure, they wrote him off the show because puberty hit him like a ton of bricks and continuity would have gone out the window, but in the flash forwards he was age-appropriate and could have had his plot points resolved organically. Or hell, in Season Six when 'Lost' officially declared itself a fantasy series they could have easily incorporated the magic that is Walt and actually explained away his significance to the show. Like the numbers, Walt was introduced as an important plot point and remained one for years but it would appear that the writers just gave up on him, and by extension the audience, completely. Not cool.
NO SERIOUSLY, WHAT WAS UP WITH AARON?
THE MYSTERY:
In Claire's first flashback episode we learned that she was headed to LAX because a psychic warned her that "danger surrounded" Aaron, and that she must not allow anyone else to raise him, because Claire's "goodness" must be an influence on the child's development. Later, that same psychic would confess to Mister Eko that he was a fraud, but that just made his passion for the child's wellbeing more convincing in retrospect, like that time fake psychic Whoopi Goldberg found out she really could speak to ghosts in that movie with all the ghosts. Claire would have dreams about a creepy Locke with one black eye and one white eye (which seems pretty significant after Season Six) telling her, "He was your responsibility but you gave him away. Everyone pays the price now." Later, Claire would abandon Aaron to Kate's care just before the Oceanic Six made it off the island. Influenced by The Man in Black, Claire later went all Rousseau on The Others' asses and became obsessed with getting her baby back. The series ended with Claire and Kate agreeing to raise Aaron together.
THE BEST ANSWER WE GOT:
It's possible that the psychic's confession was supposed to deflect the audience's attachment to this plot point and then that would have been that, but as stated above it had the opposite effect. (Not to mention the fact that in that same episode, the psychic's daughter experienced a legitimate miracle, and the fact that we know that magic and psychics really exist in the 'Lostverse.') Aaron's significance was downplayed considerably ever since.
WHY WE DESERVE A REAL ANSWER:
Once again, the creators of 'Lost' introduced him as a really big deal. You don't prophesize that a baby will be in danger and must under any circumstance be influenced by his mother's goodness if you're not planning on, I dunno, actually getting to that plot point by the end of the series. All of the writers' efforts to make us forget about how important they made Aaron at the start of the series had little-to-no effect on the audience's curiosity.
NO SERIOUSLY, WHAT WAS UP WITH THE CABIN?
THE MYSTERY:
It's Season Three, and Locke insists on finally meeting this "Jacob" person everyone keeps talking about. Since Locke called him out in front of the rest of The Others, Ben is forced to comply. But instead of taking Locke to the statue, he takes him to Horace Goodspeed's dilapidated old cabin and pretends to speak to "Jacob" in order to hide the fact that he's never met the real protector of the island. Locke is understandably skeptical until the cabin goes all Evil Dead and a spectral figure begs Locke for help. Later, when they try to find the cabin again they realize that its location mysteriously changes all the time. The cabin is also where the Man in Black takes crazy-ass Claire. Oh yeah, and it's surrounded by a ring of ash, which can supposedly repel the Man in Black.
THE BEST ANSWER WE GOT:
At some point we realize that the ring of ash has been broken, which would seem to imply that at some point the Man in Black was trapped inside the cabin and needed someone to break the seal so he would be free to wreak havoc upon the island.
WHY WE DESERVE A REAL ANSWER:
Because "The Best Answer We Got" is pretty stupid, as near as we can tell. The Man in Black couldn't actually be trapped inside the cabin because he was outside the cabin all the damned time terrorizing the survivors as the Smoke Monster, and we know for a fact that the ring of ash can repel him since it does just that in the first episode of Season Six. So what the heck was in there? Was there a third entity? Why would poor Horace's love nest for his wife gain superpowers and start moving around the island?
NO SERIOUSLY, HOW DID THE MAN IN BLACK'S "MASTER PLAN" WORK?
THE MYSTERY:
At the end of Season Five, we learn that the Man in Black has been impersonating John Locke since he got back to the island as part of an elaborate plot to kill Jacob. Since the Man in Black was incapable of killing Jacob himself he had to trick somebody else into doing it. It turns out the last few seasons were just a complex scheme he had devised to murder his own brother and get off of the island, but how did that plan actually work?
THE BEST ANSWER WE GOT:
The Man in Black tells Ben to move the island so that he can slip it off of its axis and send the island jumping around in time, jeopardizing the remaining survivors and forcing Locke to leave the island in order to save them, but not before tricking Richard Alpert into telling Locke that he'll have to die in order to bring the rest of Jacob's candidates back.
WHY WE DESERVE A REAL ANSWER:
Does that sound like a good plan to you? What if Ben didn't break the wheel? How did he know that the candidates would bring Locke's corpse with them in the first place? Wouldn't it have been easier to just kill Locke in Season One and take his place then? And really, the big "loophole" that the Man in Black had been searching for all these centuries/millennia was just "get somebody else to do it?" How hard could that possibly be for a shapeshifting god of evil anyway?
NO SERIOUSLY, WHAT WAS UP WITH THE VACCINE?
THE MYSTERY:
When Sayid first met Rousseau in Season One, she revealed that the rest of the people in her party fell victim to a "sickness," forcing her to kill them. In Season Two we learned that the Desmond's hatch was covered in quarantine symbols and that Desmond had been shooting himself up with a vaccine for years to prevent himself from getting sick. Also, Claire herself received the vaccine – presumably to protect Aaron – when she was kidnapped by The Others.
THE BEST ANSWER WE GOT:
We learned in Season Five that when Rousseau spoke of a "sickness" that she was speaking metaphorically. The rest of the men in her party had been corrupted by the Man in Black and she killed them in self defense. Supposedly the actual vaccine was nothing more than a placebo.
WHY WE DESERVE A REAL ANSWER:
Because if the vaccine was a placebo – which might make sense in regards to Desmond and the hatch – then why did The Others, who knew more about the island than most anyone else in the series, make such a big deal about giving it to Claire? It would seem that at some point the writers thought there actually would be a dangerous illness on the island, but eventually decided not to bother with that particular plot point. If that's the case, they did a particularly poor job of explaining it away.
Still... it's one of the best tv shows ever!!!!!