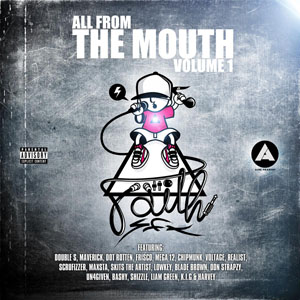 To celebrate the launch of his new website
www.faithsfx.tv,
Faith drops a free download mixtape titled 'All From The Mouth' to build anticpation for his full length release 'Man Or Machine' which will be released later in the year. 'All From The Mouth' features artists such as Chipmunk, Lowkey, Dott Rotten and Don Strapzy
FaithSFX first emerged on the UK Urban music scene in 2006, where his extraordinary beatboxing skills have seen him much in demand appearing at large clubs and touring. He has produced tracks for many artists from the UK underground scene, and his production is known for using only his own vocal effects and beatboxing sounds. More recently, Faith has been touring with Plan B, winning over new audiences including Sir Elton John and Paloma Faith. 2011 sees the release of his debut album 'Man or Machine'.
DOWNLOAD THE MIXTAPE NOW
http://faithsfx.tv/site/mixtape
Tracklisting
1.Intro (Live Interlude)
2.Grime Scene Warning Ft.Double S,Maverick & Dot Rotten (produced by FaithSFX & Angry)
3.Skengbox Ft.Frisco (produced by FaithSFX)
4.Violence in the music Ft.Mega 12 & Dot Rotten (produced by FaithSFX & Goose)
5.Same Old Song Ft.Chipmunk (produced by FaithSFX & Skitz Beatz)
6.(Live Interlude 2)
7.Swagga Like Who Ft.Voltage,Realist & Scrufizzer (produced by FaithSFX & Skitz Beatz)
8.Unfamiliar Territory Ft.Maxsta (produced by FaithSFX & Skeamz)
9.Mr.Miagi Ft.Skits The Artist (produced by Rude Kid)
10.DJ Gone Freestyle Ft.Lowkey (Street Interlude)
11.Grime VS Hip Hop Ft.Lowkey (produced by Dot Rotten)
12.I'm Going Hard Ft.Dot Rotten (produced by FaithSFX & Angry)
13.Shutdown Ft.Blade Brown, Don Strapzy & Un4given (produced by FaithSFX)
14.Spit Yo Game Ft.Scrufizzer (produced by FaithSFX)
15.(Live Interlude 3)
16.Under The Influence Ft.Voltage (produced by FaithSFX)
17.Material Girls Ft.Bashy (produced by FaithSFX)
18.Body Ina Hole Ft.Shizzle (produced by FaithSFX & Goose)
19.After Everything Ft.Liam Green (produced by FaithSFX)
20.(Live Interlude 4)
21.Give Me That Ft.K.I.G (produced by FaithSFX)
22.My Life Ft.Harvey (produced by FaithSFX)
23.Westwood Freestyle 2010 (Radio Interlude)
24.Sip Instrumental (produced by FaithSFX)
Download the Mixtape here :
http://faithsfx.tv/site/mixtape